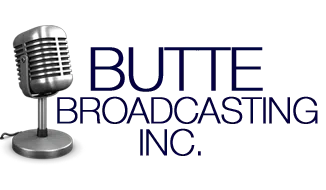 We are Proud to be Your Local Broadcasters!
Butte Broadcasting Inc. is the only locally owned and operated collection of radio stations based in Butte, Montana. Ron and Shelly Davis purchased the business from the late Shag Miller in 1994, and have continued the tradition of hometown radio at it's finest. While many radio stations across the country have turned to easy sell formats and computer employees, Butte Broadcasting has committed to bringing our listeners their favorite music and still employs nearly twenty great folks. It has been the absolute pleasure of Butte Broadcasting to serve this area we call home by being involved in the community at the deepest levels; from helping our friends in need to raising public awareness, providing talent for events to lending hands to get things done. We welcome you to our family and hope you'll take the time to explore what hometown radio is!
Ron & Shelly Davis – Butte Broadcasting Inc.
April 1, 1994 to Current
In 1994, Ron and Shelly Davis purchased KBOW 550am and KOPR 94.1fm from Shag Miller. Ron had been working in various capacities for Shag Miller starting as a part-time announcer in September 1979 then moving through the company in various roles from disk jockey to program director to sales executive and finally as Shag's assistant general manager. In December 2006, Butte Broadcasting purchased KGLM 97.7 (Magic) and KANA 580am from Jimmy Ray Carroll. In August 2012, Ron and Shelly donated KANA radio station and studios in Anaconda to AWARE, Inc.
Ron has been a voice for independent local broadcasters by representing Montana, Wyoming and Idaho as a Radio Board Member on the National Association of Broadcasters. He has also been instrumental in shaping Montana Broadcasting by serving as President of the Montana Broadcaster's Association (MBA) and holding many various roles on the MBA executive board.
Shelly is the chief financial officer of Butte Broadcasting Inc. and is a Certified Public Accountant in the State of Montana. Shelly handles the day to day accounting and financial aspects of the company.
You can listen in to Country KBOW at either 550am or from atop the Continental Divide at 101.5fm.
KOPR is at 94.1fm on the dial and it can also be heard in historic Philipsburg on translator 105.1
Enjoy KGLM's chart hits on both 97.7fm or 100.3fm.
Shag Miller – KBOW, Inc.
April 1, 1962 to April 1, 1994
Mr. Miller was born Sept. 3, 1923, in Lewistown, and when he was 3 months old, he moved with his parents, older brother John and older sister Alice to Butte, where he lived for the rest of his life, other than his World War II service and his years attending UM. He graduated from Butte High School in 1941 and enrolled at UM. He joined the U.S. Army Air Corps in 1942 and served as a flight navigator in a bomber squadron based in Italy. He was awarded a Distinguished Service Cross and Air Medal, and was discharged with the rank of first lieutenant. After the war, he returned in 1945 to the university, graduating in 1947. He worked for one year as a traveling secretary for Theta Chi fraternity and returned to Butte to work for the Montana Standard, first as a reporter and later as an advertising salesman. He married Danette Kelly in 1951 and had four children, Ellen (Jeff Wendland) of Grand Junction, Colo., Emily (Randy) Morris of Butte, Chris "Tiff" (Colleen) of Deer Lodge and Doug of Portland. After Danette's death in 1978, he married Helen "Gus" Guthrie in 1979 and gained a stepdaughter as well, Eden Atwood of Missoula. Mr. Miller was proud that all five attended the University of Montana.
In 1962, Mr. Miller purchased KBOW radio to begin his broadcasting career and acquired KOPR radio in 1964. He was a member and past president of the Montana Broadcasters Association and a member of the CBS Radio Affiliates Board, the Associated Press Broadcasters Board and the National Broadcast Engineering and Standards Board. He scooped the national and international media in 1974 when he had the exclusive live broadcast of Evel Knievel's attempt to jump the Snake River Canyon in Idaho. At KBOW, Mr. Miller ordered 5,000 bumper stickers reading "I'm from Butte, America" and demand was so high that he ordered many thousands more over the next few years. Mr. Miller ended his broadcasting career in 1994, when he sold KBOW and KOPR. He then purchased a Muzak Communications business and operated it for 10 years before retiring. He remained active, however, attending Montana Tech, supporting the University of Montana and the Griz, and serving on the board of the Bert Mooney Airport Authority until his death. Golf was his recreational passion. He was sectional chairman and rules committee member of the United States Golf Association for more than 25 years, served as executive secretary of the Montana State Golf Association for 21 years and was past president and a board member of the Montana Seniors Golf Association.
Mr. Miller served on the Montana Power and Entech board of directors from 1982 to 1995 and was a past board member of the University of Montana Foundation. He twice was president of the Butte-Silver Bow Chamber of Commerce and served on the boards of the Salvation Army, Butte Country Club, Butte YMCA, First Bank Butte, Butte Forward, Butte-Silver Bow Government Study Commission and was a past president of the Butte Local Development Corp. and Port of Butte. He also served as chairman of the I-15 Commission, which directed the interstate highway route through the Mining City, and was a longtime member of the Butte Rotary Club.
He was named a Distinguished Alumnus of the University of Montana in 1996, an honor that touched him deeply.