Recently, the Columbia Gardens Carousel opened at Stodden Park. I had the pleasure of visiting it for the first time with my parents and grandma this week. What an amazing experience! I have to compliment all the volunteers for their hard work, especially those that have been with this project since the very beginning! I know a few that were watching proudly from heaven as the first ride was given.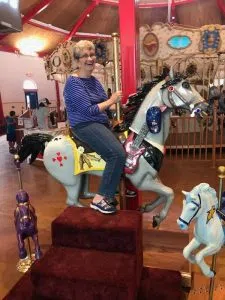 While we were waiting for our lunch, Ron asked Mama D a very interesting question. "After all the Partylines, all the years of watching the volunteers raise money for horses, and all the talk about what could be; did you ever think you would see it?"
Mama D thought about it for a second and replied, "No, I didn't think I would ever see it, but it gives me hope that maybe we will see the creek cleaned up too."
I was struck by the simple truth in her words. The Columbia Gardens Carousel is, above all else, a symbol of hope in this community. Hope that the Spirit of Butte will live on for many generations to come, hope that our community will finally get treated fairly, and ultimately, hope for the future of Butte.  If one dream could come true, why not all of them?  With some tenacity and a few more people that are willing to stand up and fight, I think we could create a few more successes here at home.
Since we are dreaming, what would you like to see happen in the Silver Bow Creek corridor? What does your dream for Butte look like? We want to know! Butte Silver Bow, the EPA, and others will be hosting a Design workshop on Tuesday, August 7th at noon and again at 6pm. They will be held at Butte Brewing Company in the conference room.  Attendees will be asked to consider the corridor as it is now and how they may like to use the area in the future.  The event is family-friendly and will incorporate children's perspectives through age-appropriate activities.
Facilitation will be provided by Butte-Silver Bow and representatives of the technical teams responsible for engineering and design of the clean-up project for the corridor.  Representatives from Atlantic Richfield, Montana Department of Environmental Quality and the Environmental Protection Agency will be in attendance to address questions. For more information about this workshop, please contact Julia Crain, Butte-Silver Bow Special Projects Planner.